Happy Hormone Starter Pack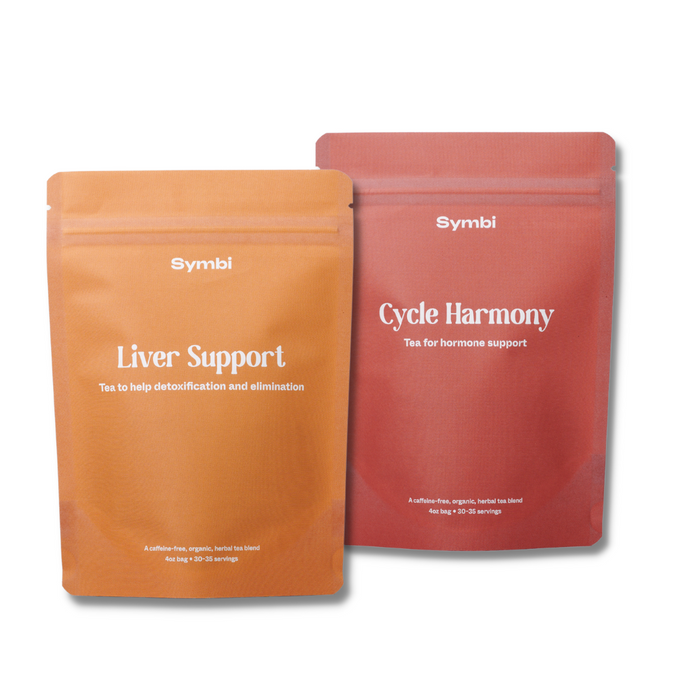 "A match made in heaven for hormone support" a review from a customer that sums up how we feel about liver support tea and cycle harmony as well. 

Caffeine-free. No fillers. Additives, or sweeteners, just 100% organic herbs.
Did you know that the liver works to cleanse our body of unwanted toxins, maintain weight, regulate cholesterol levels, and hormone levels? It does much more but when it is stagnant, according to traditional Chinese medicine, energy does not flow properly. This can disrupt hormones, weight, etc.

One of the main functions of the liver is to eliminate excess estrogen. When your liver is stagnant, and this process slowed down, it can lead to issues like bloating, weight gain, heavy periods, intense PMS symptoms, etc. This is why it is important to support liver health.

One pathway to success includes brewing the liver support tea 2-3 times a day for 10 days. Then drinking Cycle harmony 1 time a day for a month. See how your first period goes after that. If you're still experiencing pesky PMS symptoms do one more month of cycle harmony daily and go from there! Most get to a point where they just drink it when they get their period.
Find full details on Cycle Harmony here. 
Find full details on Liver Support here. 

FDA Statement + Warnings
These statements have not been evaluated by the Food and Drug Administration. This product is not intended to diagnose, treat, cure, or prevent any disease. Keep out of reach of children. Consult your healthcare provider prior to use if you are pregnant or nursing, taking any medication or if you have a medical condition.
* We use 2oz and 4oz bags, the weight varies depending on the weight of various herbs used.